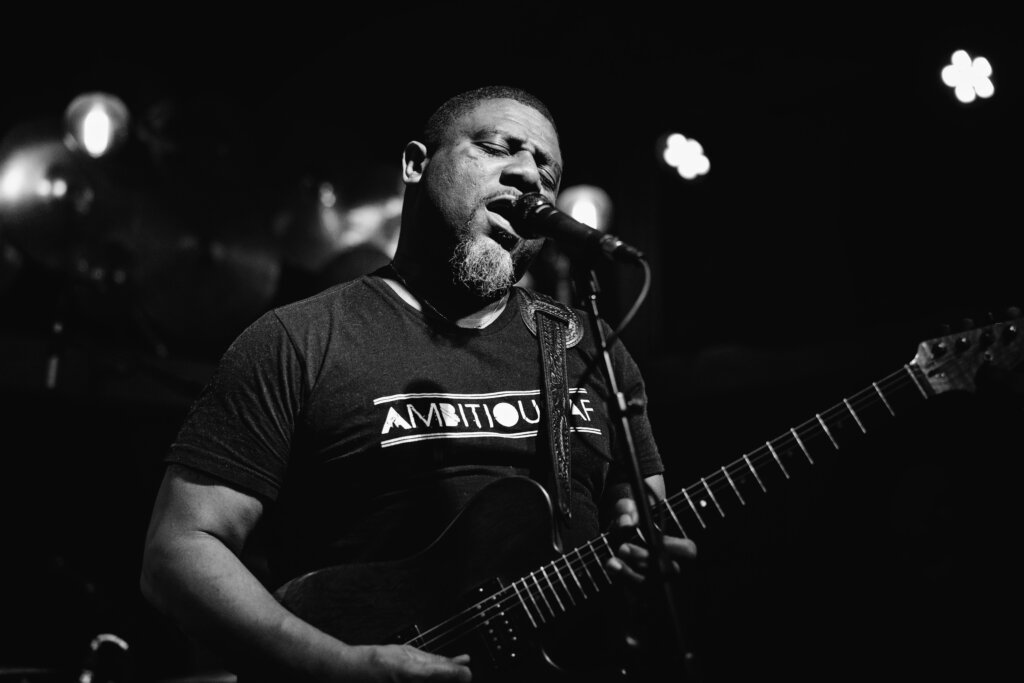 Jubu and Carl are long-time friends who have worked together across many high-level projects for the past 40+ years, both live and in the studio. Jubu played electric and acoustic guitar on four of the songs on "Forward", including the beautiful acoustic guitar lead on "Get a Little". Jubu's tracks were the foundation for the songs he worked on providing funky and soulful rhythm with beautiful and intricate runs & finger-picking patterns.
The sessions with Jubu were some of the most professional I have ever been a part of. He quickly learned each song (while he was tuning!) and he nailed each track on the first take. He and Carl have an astonishing sixth-sense musical and personal connection, with their own language, that allows them to be super creative in working out the perfect parts – and to do it quickly.
Jubu has worked with many of the top artists in rock history including Luther Vandross, Mary J. Blige, Boyz II Men, Alicia Keys, Michelle Shocked, Toni Braxton, George Duke, Eric Benet, George Benson and many more. Jubu has been one of the best guitar players in the world since he was a young guitar prodigy coming out of the renowned Berkeley High School jazz program. At 19, he began playing guitar for Tony Toni Toné. Jubu spent a decade with the Tonies before going on the road for a year and a half with Whitney Houston. For the past 15 years, he's been touring internationally with Frankie Beverly & Maze.
Jubu is a transplanted Oakland native, who moved to Atlanta to be with his wife and three children. He is currently establishing himself as a solo artist and is the front man of his own soul-blues bands, Legally Blynd & The Jubu Smith Experience – sextets that include his brother Eric "Pik Funk" Smith, Carl Wheeler and others.
– Jay Middleton