Jay Middleton is a San Francisco Bay Area singer/songwriter who has been writing songs, releasing albums, forming & leading bands and entertaining people at thousands of live performances since 1985.
Middleton recently released his first solo album "Forward", an "uplifting & ambitious, deeply textured & exquisitely produced album with a polished sound that unfolds kaleidoscopically into a variety of configurations."1
Many decades of personal friendships & musical connections aligned around the writing & recording of "Forward". Some of the finest musicians that the vibrant & historic SF Bay Area music community has to offer coalesced around Middleton's new songs to produce a record that critics are calling "the deeply considered, wickedly detailed work of mature talents."1
The album was recorded during the outbreak of Covid – a time of great strife and transition for all of us. The themes are purposefully hopeful and optimistic in the face of all the negativity and division that surrounded us then – and that still surrounds us all today. Songs about the struggles, hopes and dreams that we all share and experience trying to move ourselves "Forward" through life.
Besides supporting the release of the album, the purpose of this website is to share some intimate details of how "Forward" was made, who was involved and the story of how it all came together.
1 Joel Selvin, ""Forward" album review, November 1, 2022
Writing Partnership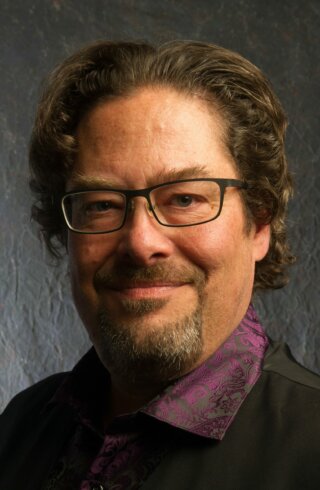 Jay Middleton
Jay Middleton is a seasoned vocalist and songwriter who has been forming and performing in top level rock bands for 37 years.
From his early high school days playing the SoCal lifeguard parties with The Rubber Rugs to playing the campus parties at Stanford University with Riptide & Gotham City to his long original band career with Occams Razor, 10 Year Rain, Lord Frisbee & Mantra, Jay has been entertaining tens of thousands of people at thousands of live shows for almost four decades running.
Songs that Jay has written have charted in the US Top 40 charts with lots of airplay across the US in the mid-90's. With his bands, Jay has toured all across the US performing at many top clubs and venues and opening for and sharing the stage with many famous artists.
Known for his strong powerful voice and ability to sing almost any style of music, Jay has been playing 50+ dates per year for the past 20 years in the San Francisco Bay Area with his corporate band All Star Jukebox, a local, high-energy party band of the Bay Area's finest musical all-stars whose members have included: Latoya London (American Idol), Mic Gillette & Skip Mesquite (founding members of Tower of Power), Jude Gold (Jefferson Starship), Nate Ginsberg (Herbie Hancock, Larry Graham & Central Station), Tony Stead (Tommy Castro), Lisa Battle (Big Brother & the Holding Company) and many more.
Jay is a family-first person who lives in the SF Bay Area where he enjoys being a husband and proud father of two children & family dog Bucky.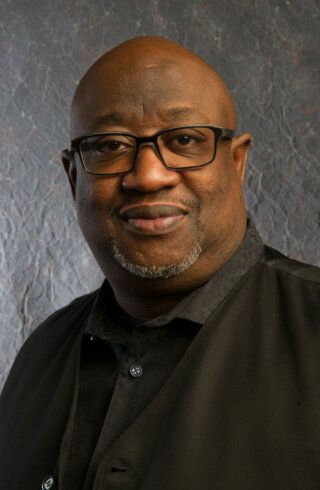 Carl Wheeler
I first met Carl Wheeler at a late-night writing session at Rick Barretta's studio, Flight Studios. I played him something on the piano that I had been working on and sang him a melody. Within an hour we had most of "Get a Little" written. In our next session a few weeks later we wrote "I Like the Way" in similar fashion over the course of a few hours. This was the start of a successful songwriting & recording partnership, and eventually a deep friendship, that would lead to the album "Forward".
Carl is a Grammy-winning Producer, Composer and piano/organ/synth player who was a founding member of Tony Toni Toné and then spent 23 years touring with Frankie Beverly & Maze. He has worked with everyone from Prince to Green Day and is well-versed in all styles from rock to soul to R&B to pop to gospel to hip hop – and all stops in between. He currently works as a Producer & Engineer at FM Recorders, Emeryville, CA – the studio he owns with his partner Tommy McElroy (En Vogue).
Carl was the Producer of "Forward". He also co-wrote three of the songs with me, played piano/organ/synth on every song and sang background vocals on "Last Time" & "Get a Little". He brought all of his world-class skills and decades of top level experience to the project. A true creative genius, Carl has a knack for knowing exactly what each section of the song needs. He has an amazing ear for finding perfect balance in his mixes where all parts can be heard clearly, but also emphasizing certain cool parts to stand out in moments, without ever stepping on the lead vocal. A master of hooks and ear candy, Carl also excelled at the background vocal arrangements, helping to build just the right harmonies on the songs to best support the lead vocal melody. That's no surprise since he's been a Choir Director since he was 8 and has produced and performed with many of the top Gospel artists for 40+ years. The son and brother of local Oakland pastors, Carl is a family man of strong faith who is deeply involved in his church and community.
It was an honor and a privilege to work with and also become good friends with Carl during the making of "Forward". Outside of our strong musical connection, we enjoyed talking about politics and the joys (and heartaches) of raising families, taking ear breaks to watch Warriors games and sampling all the great restaurants around his studio in Oakland and Emeryville. It was a blast making this record together and the best part is that we are just getting started. Much more joyful music to come from us!
– Jay Middleton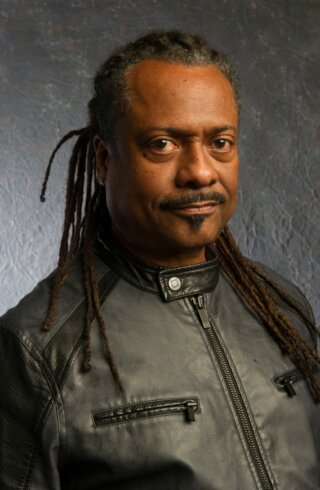 Vernon Black
I also met Vernon Black for the first time at a late-night writing session at Rick Barretta's Flight Studios. As we got to know each other and got more comfortable writing together, Vernon would come to my house, and we would work on songs together in my garage studio, with my dog Enzo by our side. In our third session Vernon jammed some chords on his guitar, and I made up a vocal melody over it, and within about an hour we had written our first song together – "Last Time". In future writing sessions over the next year, I would play him some new songs I had written on guitar or piano, and he would add some chords, write a bridge, and help tweak the arrangements – leading to much improved versions of "Hard 2 Luv U" and "Whispers".
Vernon is a Producer, Composer and one of the best guitar players in the world. Over his 50+ years working across the highest levels of the music industry, he has had one of the most interesting, diverse and successful careers of anyone in rock history. The list of the people he has worked with is a virtual pantheon of many of the most important rock and roll hall of fame artists of the past 50 years – Mariah Carey, Whitney Houston, Stevie Wonder, Aretha Franklin, Chaka Khan, Celine Dion…and the list goes on and on and on.
Vernon co-wrote 4 of the songs on "Forward", played electric guitar on every song, and played the two epic guitar solos on "Hard 2 Luv U". As an Associate Producer of the album, his production skills were critical during both the pre-production phase and during our first full-band recording sessions, where he was instrumental in charting out the songs, helping shape the arrangements and helping to find the best chord voicings for each song.
Vernon and I also became good friends during this entire journey. We found shared similarities and connections in how we view the world and how we want to engage with it. We both have a goofy side and wacky sense of humor. We have enjoyed carpooling to gigs, hanging out and jamming & improvising together on stage.
We are just getting started and Vernon and I can't wait to roll out the live version of our musical vision to everybody soon. It's going to be a fun ride!
– Jay Middleton
With A Little Help From Our Friends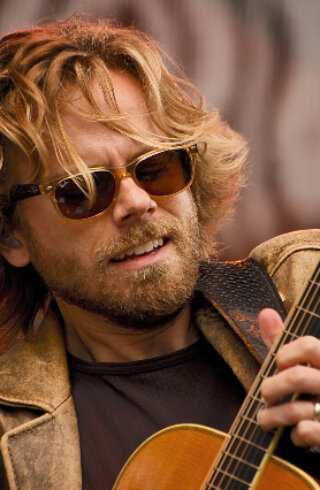 James Nash
James played mandolin, acoustic guitar and electric guitar on 5 songs on "Forward", adding beautiful textures and subtle hooks to the songs. In addition to his rhythm guitar performances, he added mandolin and some tasty electric guitar lead licks throughout each song he played on.
James and I go way back to the 90's where we spent 6 years together writing songs and touring the US with our original band Occams Razor. We "discovered" James when he was a freshman at Stanford University after he answered our ad for a lead guitar player. Five minutes into his audition we knew he was the guitarist we wanted as he blew us away with his incredible chops and feel. James was only 19 at the time and already a world class guitar prodigy. In the beginning of Occams Razor, he was so young that he wasn't allowed to stay and hang out in the clubs after we played. We spent many a night navigating windy, snowy roads together to get to our next gig, had a blast doing it and became lifelong friends. James also played mandolin on my "Ten Year Rain" album.
James has had a long and successful 30-year music career as a performer, songwriter and producer. After Occams Razor, he joined The Waybacks, an Americana roots bluegrass band that has a devoted following and still tours today. James and The Waybacks also backed Bob Weir as the "Weirbacks" on his 2006 tour.
James has worked with many top artists including serving as the Band Leader for Elvis Costello, Emmylou Harris, Bela Fleck, Chris Thile and many more. He was honored in 2017 by Guitar Player as one of "50 Transcendent Acoustic Guitarists". James also writes and performs in his own bands, The Nomads and The Nashvillians.
James is a family man who loves baseball among his many other hobbies and interests. He bleeds SF Giants orange and is deeply involved in SF Little League where he has coached all-star teams that have done well in the regional tournaments.
– Jay Middleton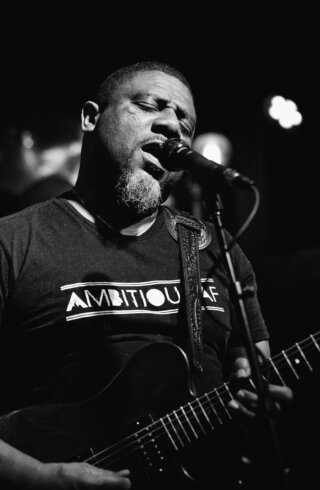 Jubu Smith
Jubu and Carl are long-time friends who have worked together across many high-level projects for the past 40+ years, both live and in the studio. Jubu played electric and acoustic guitar on four of the songs on "Forward", including the beautiful acoustic guitar lead on "Get a Little". Jubu's tracks were the foundation for the songs he worked on providing funky and soulful rhythm with beautiful and intricate runs & finger-picking patterns.
The sessions with Jubu were some of the most professional I have ever been a part of. He quickly learned each song (while he was tuning!) and he nailed each track on the first take. He and Carl have an astonishing sixth-sense musical and personal connection, with their own language, that allows them to be super creative in working out the perfect parts – and to do it quickly.
Jubu has worked with many of the top artists in rock history including Luther Vandross, Mary J. Blige, Boyz II Men, Alicia Keys, Michelle Shocked, Toni Braxton, George Duke, Eric Benet, George Benson and many more. Jubu has been one of the best guitar players in the world since he was a young guitar prodigy coming out of the renowned Berkeley High School jazz program. At 19, he began playing guitar for Tony Toni Toné. Jubu spent a decade with the Tonies before going on the road for a year and a half with Whitney Houston. For the past 15 years, he's been touring internationally with Frankie Beverly & Maze.
Jubu is a transplanted Oakland native, who moved to Atlanta to be with his wife and three children. He is currently establishing himself as a solo artist and is the front man of his own soul-blues bands, Legally Blynd & The Jubu Smith Experience – sextets that include his brother Eric "Pik Funk" Smith, Carl Wheeler and others.
– Jay Middleton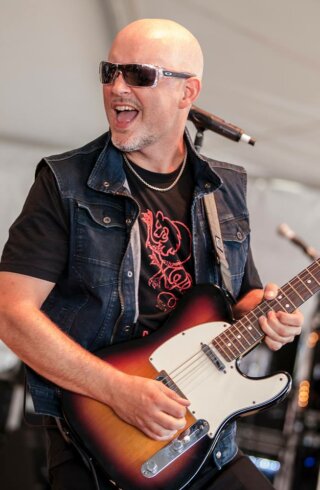 Jude Gold
Jude brought a rock edge to the album "Forward", playing electric rhythm guitar on "Whispers" and "Last Time" – and he also performed the two shredding lead guitar solos on "Last Time".
Jude and I go way back to my very first gig in San Francisco after relocating here from LA in 2002, playing at a small local club with our friends Diz Dismore and Dave Cotter. It was my first exposure to the Bay Area music scene and Jude and I would go on to become lifelong friends and play hundreds of shows together with All Star Jukebox and other local bands. Jude and I also recorded an original album together with Tony Saunders and our friend Brian Sharp called "Mantra".
Jude Gold is currently the lead guitarist for Jefferson Starship and has always been one of my favorite guitar players. He has written a song with Grace Slick and has worked with many top artists including Eddie Money, Greg Howe, Stuart Hamm, Billy Sheehan, Kristin Chenoweth, 2 Live Crew, DJ Miguel Migs, JGB and many more. Jude has been an Editor of Guitar Player Magazine since 2001, where he has written many columns and feature articles. Jude also somehow finds time to host a podcast called "No Guitar is Safe", where he has done several hundred shows interviewing and jamming with many of the world's greatest guitar players.
One of my favorite things that Jude has done is his funky and rockin version of "Funkytown" where he plays all the instruments. The video is super cool too. Guitar hero Joe Satriani raved, "Jude Gold's 'Funkytown' is killin'! Only Jude could pull this off technically and make it fun to listen to as well."
– Jay Middleton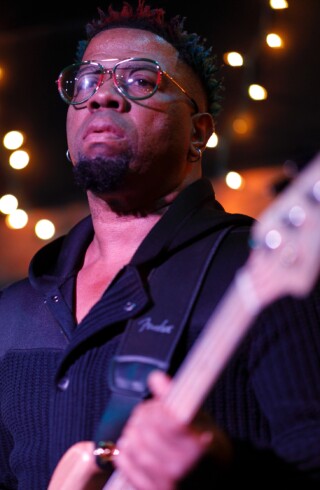 Eric Smith
Eric played bass on all of the songs on "Forward", bringing his funky groove, creativity and positive spirit to all of his tracks. His nickname "Pik Funk" is well-earned for his super funky bass style. Eric is the consummate professional and he quickly played the perfect part on every song we threw his way in just a few takes. Carl and Eric are like family and Eric has played bass on many studio and live projects for Carl over their friendship of 30+ years. These include touring with Sheila E, Michelle Shocked and many more.
Eric has played with many top artists in his career including Justin Timberlake, Janet Jackson, Destiny's Child, P Diddy, Babyface, Jamie Foxx, Jill Scott and many more. He has also served as the Music Director/Band Leader for Rhianna, Lalah Hathaway, Fantasia and many others.
In 2021, Eric was named to the prestigious SJ Mercury News all-time Top 25 Bay Area bass players list. He currently is the Music Director for Latoya London and plays often around the US with his brother Jubu in Legally Blynde & The Jubu Smith Experience.
A man of strong faith, Eric is a monster musician who is also an admirably down-to-earth and humble rock star. I think that this line from his website sums him up perfectly: "He is a pleasant soul with an infectious smile. He finds a friend in all those who know him and regards himself as "blessed" in every way".
I loved what Eric brought to the record and also enjoyed getting to know him better. I look forward to working together lots more in the future.
– Jay Middleton