Forward
Jay Middleton
Album review by Joel Selvin
"a seamless evocation of timeless musical values – soulful but sophisticated, sturdy songs with instantly accessible melodies that give vocalist Middleton a platform from which he can truly soar…"
JAY MIDDLETON & DAN ASHLEY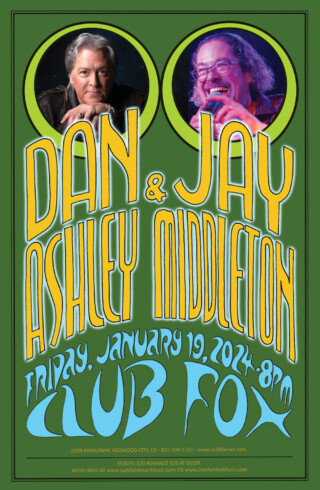 January 19, 2024 @ Club Fox
Redwood City, CA
8:00 PM (Doors: 7:00 PM)
$20/advance – $25 door
GET TICKETS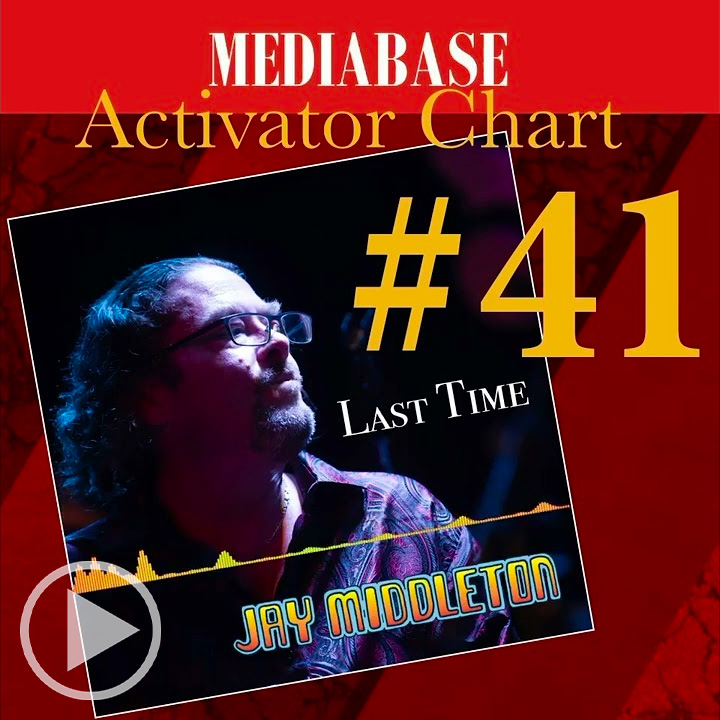 The Story of Jay Middleton & "Forward"
– By Joel Selvin, Longtime San Francisco Chronicle pop music critic & New York Times best-selling author of Altamont, Here Comes the Night, Red (with Sammy Hagar) and others.
27 years after his last song hit the Top 40, Jay Middleton has returned with his latest album "Forward". But Jay Middleton never left music.
At the height of his high-powered Silicon Valley career, he still played gigs every weekend, averaging 50+ dates a year. He was raising a family, running a global division at Adobe Systems with more than forty-five people, and always found time to make music. On the weekends, he fronted a nine-piece band called All Star Jukebox at weddings, birthdays, corporate events, and every imaginable kind of gig, playing every kind of music from Frank Sinatra to Bruno Mars. He could not leave music alone.
Middleton joined his first band the summer after high school graduation at the peak of the MTV era of rock in 1985. He played in bands all through his university years at Stanford. After graduation, as he started his first corporate day job, he put together the band Occams Razor, which is where his music career really took off. While working in the copy center at Oracle, Middleton started Occams Razor with two of his old college friends and some other musicians, writing songs and working the same Bay Area club circuit as Train, Counting Crows and Third Eye Blind, all rookies of the same class.
Occams Razor recorded two well-received albums that were favorites on the top San Francisco rock radio station KFOG and had airplay on radio stations across the US. In 1996, their second album, "Mr. Moon", produced by Grammy-winning producer John Cuniberti (Joe Satriani, Michael Manring), launched a modest hit single, "She Said", which made the Top 40 charts. Train was the opening act at the album release party. The Razor toured the country for several years, appearing with acts such as Toots and the Maytals, Booker T & the MGs, The Smithereens, Sublime and many others. The band made a serious run at the brass ring, but ultimate success eluded Occams Razor and they broke up.
His two college friends moved into career-track positions in Silicon Valley, but Middleton, with the encouragement of his wife, relocated to Los Angeles to take one last crack at a music career. He worked a day job for Xerox Business Services running the copy center on the Sony Pictures studio lot, where he kept his toe in show business while he put together a band. He wrote and recorded a five-song album called "10 Year Rain," which reflected his growing maturity as a musician, but ultimately was never released. In 2000, Middleton folded his tent and moved back to the Bay Area to start a family and begin a career in business.
After spending 15 years in Silicon Valley building and managing global search marketing teams (SEM & SEO), he found himself burned out on his high-pressure job and yearning for a major life change. With his family grown, Middleton plotted his second act. He left his job and started writing songs and spent a year woodshedding on piano, guitar and ukulele. He started working with producer Rick Barretta on pre-production of his new songs. Barretta had produced Frankie Beverly & Maze and Eddie Money, and had worked under producer Narada Michael Walden on Ray Charles' last album. Barretta introduced Middleton to his two key collaborators, Carl Wheeler and Vernon Black, and they began writing songs together.
Black is a world class guitarist, composer and producer who has worked with many of music history's top artists over an incredibly diverse 50-year career. He was the house guitar player in the hit squad at producer Narada Michael Walden's Tarpan Studios, where he played sessions for Whitney Houston, Aretha Franklin, Mariah Carey and many others alongside drummer Walden, bassist Randy Jackson (Journey, American Idol), and keyboardist Walter Afanesieff – the unmatched Marin County hit machine of the '90s. Black supplied a fierce, rock-style approach to the polished pop-funk Walden produced, a sharp edge to the crisp trademark sound.
Wheeler is a Grammy-winning producer, composer and performer who served as keyboardist and musical director of both Oakland's Tony Toni Toné and Frankie Beverly & Maze, shining lights of old school R&B and soul. Wheeler shares a recording studio with Thomas McElroy (En Vogue, Club Nouveau, Timex Social Club). For 20 years, Wheeler and McElroy have sat at the center of the Oakland R&B and soul scene. Wheeler is also one of the top Gospel producers and performers and he brought a Gospel vibe to some of the songs on "Forward".
After producer Barretta bowed out of the project due to health concerns, Wheeler took over the producer duties. He brought into the sessions his old friend's Jubu Smith – the sensational guitar player from both Tony Toni Toné and Frankie Beverly & Maze who played for years with Whitney Houston — and his brother Eric Smith, who was Rihanna's long-standing bass player. To fill out the rock side of the sound, Middleton drafted his Occams Razor bandmate James Nash, a gifted guitarist who made his mark in the jam band world with the Waybacks and has toured with Bob Weir and Phil Lesh. Middleton also brought in his old friend Jude Gold, who plays lead guitar with the current edition of Jefferson Starship, who added more rock guitar to the mix. To bring a little country music flavor with a touch of pedal steel guitar, Wheeler brought in Pete Grant, who not only played on Tony Toni Toné's Sons of Soul but also the Grateful Dead's Aoxomoxoa. For horns Wheeler brought in NYC's Norbert Stachel, his old road roommate from their teenage-years tours with Sheila E. and Prince. For a Gospel choir ending to one of the songs, Wheeler turned to his old friends The Love Church Choir, many of whom are descendants of the Edwin Hawkins Singers (Wheeler has worked with all 3 Hawkins brothers as their producer) – more deep Oakland roots for the project. The final product was mastered by John Greenham, who has won multiple Grammys and Oscar's for his work with Billie Eilish and others.
One of the elements that mark great musicians is their commitment. They make music not because they like it or because they want to, but because they must. It lives in them like a compulsion, a driving life force. It provides the means to expression no other outlet can offer. They need rhythm and harmony like other people need air and water. If you can walk away from playing music, you never had it. Jay Middleton couldn't.
Jay Middleton knows this. He lived it. He may have detoured for fifteen years to have a professional career and build a family, but his heart never left the music. It never went out of his mind, and he never quit playing and singing. If his party band taught him enthusiasm for all sorts of different music he might not have discovered on his own, it also sharpened his ear to nuance and audience response. Somewhere inside he knew he would be back, and he was stockpiling information that would serve that moment. He's using everything now that he has learned on his life's journey and knows he is on the vista of new musical horizons and opportunities that he can see clearly. For someone who spent over forty years building towards this opportunity, to let this pass him by would be a mistake Jay Middleton could never make.
He's ready to keep moving Forward.