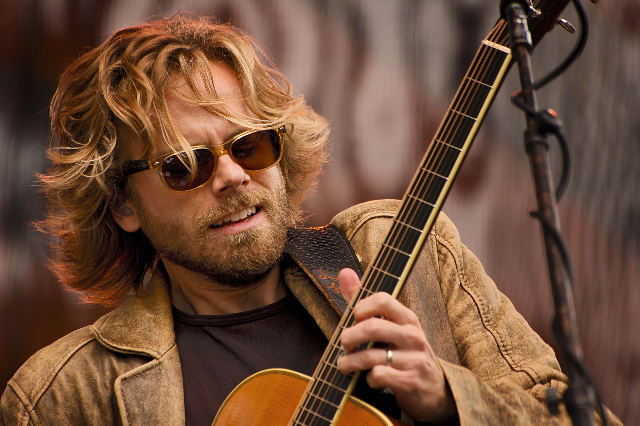 James played mandolin, acoustic guitar and electric guitar on 5 songs on "Forward", adding beautiful textures and subtle hooks to the songs. In addition to his rhythm guitar performances, he added mandolin and some tasty electric guitar lead licks throughout each song he played on.
James and I go way back to the 90's where we spent 6 years together writing songs and touring the US with our original band Occams Razor. We "discovered" James when he was a freshman at Stanford University after he answered our ad for a lead guitar player. Five minutes into his audition we knew he was the guitarist we wanted as he blew us away with his incredible chops and feel. James was only 19 at the time and already a world class guitar prodigy. In the beginning of Occams Razor, he was so young that he wasn't allowed to stay and hang out in the clubs after we played. We spent many a night navigating windy, snowy roads together to get to our next gig, had a blast doing it and became lifelong friends. James also played mandolin on my "Ten Year Rain" album.
James has had a long and successful 30-year music career as a performer, songwriter and producer. After Occams Razor, he joined The Waybacks, an Americana roots bluegrass band that has a devoted following and still tours today. James and The Waybacks also backed Bob Weir as the "Weirbacks" on his 2006 tour.
James has worked with many top artists including serving as the Band Leader for Elvis Costello, Emmylou Harris, Bela Fleck, Chris Thile and many more. He was honored in 2017 by Guitar Player as one of "50 Transcendent Acoustic Guitarists". James also writes and performs in his own bands, The Nomads and The Nashvillians.
James is a family man who loves baseball among his many other hobbies and interests. He bleeds SF Giants orange and is deeply involved in SF Little League where he has coached all-star teams that have done well in the regional tournaments.
– Jay Middleton